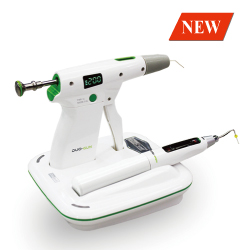 Dia-Duo (Cordless Warm Vertical Compaction & Backfill Obturation Device
Dia-Duo is new developed Cordless Obturation System included Duo-Pen warm vertical compaction device and Duo-Gun backfill
obturation device. Duo-Pen offers excellent warm vertical compaction with quick heating tip. Duo-Gun with quick heating system allows
the fast and perfect obturation delivery. Duo-Gun and Duo-Pen are located in one charger.